Our Shared Values
1. Compassion Minded
One of the most encouraging things in life is to be seen and understood. Unfortunately, most people are so consumed with their own problems that they fail to notice yours. And by the way, if you're in the ministry, you're not supposed to have any problems. Right?
If you are a pastor, I know there are some Sunday's where you have walked away from the pulpit wondering what went wrong. Next week you'll try harder. So you end up wearing Monday through Saturday like a monkey on your back. The stress of performing up to everyone's expectations is overwhelming at times.
Then there are those moments when you feel good on the inside. Everything seems to be going your way. All it takes to mess that up is a finance meeting or checking your email. You expected the world to give you grief when you entered the ministry, but not church members.
If anything I have said is resonating within you, then you need someone who is approachable and available. You need someone who will listen to your story, and pardon the cliché, feel your pain. I love what the Bible says about Jesus in Matt. 9:36, "When he saw the crowds, he had compassion on them, because they were harassed and helpless, like sheep without a shepherd."
Jesus was compassion minded. We are inspired by this trait so much that it's our first priority, and one of our strongest values. Simply stated, it's our joy to share the "mind of Christ" with you.
2. Creative Design
We were made in the image of our Creator, so our capacity to express this attribute of God is hardwired into our DNA. A creative mind normally possesses these two traits. The first is freedom. In other words, a creative soul is free from the distractions that seek to hold it hostage. Worry, fear and depression are chief among these. They are fierce enemies of a creative mind. The people with a high capacity for creativity have learned to deal with these threats quickly.
Secondly, a creative mind is a wandering mind. It's energy is derived from such activities as meditation and imagination. It was Einstein who said, "Imagination is more important than knowledge. For knowledge is limited to all we now know and understand, while imagination embraces the entire world, and all there ever will be to know and understand." So there you have it. The most brilliant physicist of modern times may have also been the most creative and imaginative.
Most churches don't know what to do with the human imagination, and their leaders struggle to implement creative ideas. I actually have a theory about why this is so. It's a given that Satan hates God. But he also hates us because we were made in His image. When we express any of the attributes of God, like creativity, he attacks us with the full force of hell. It's the devil's way of getting even. If you don't believe me, watch very carefully what happens the next time you start moving toward artistry and originality.
Blessed are those who have the conviction and the courage to express their creativity in ministry. I applaud you for staying in the battle. Creativity matters to the Creator. He blesses it because it reveals the glorious side of His nature. The sheer beauty of creation lets me know that God values creativity.
One of the ways we can help you is by evaluating the level of creativity being expressed in your ministry. We have a keen eye for the artistic side of things, and a powerful sense of smell for the things that are worn out and decaying. We can give you both input and ideas on how to make progress. Our tool bag includes things like web design to capital campaigns that are specifically designed for your vision, voice, and ministry.
Let me give you an analogy that spells out the difference between us and the rest of the pack. Compare it to buying clothes. When you go to a department store to find something to wear, most of the cloths on the rack are not going to fit you… and most won't look good either. It may take some time to find something you like. But if you go to a tailor, he or she will personally measure your one-of-a-kind-body. At Briar Patch, we tailor our designs for the body of Christ that meets at your church. Not someone else's. We care about the way you look when it's all said and done.
3. Fearless Focus
Many people run away from problems. I remember someone saying once, "Never trouble trouble until trouble troubles you." It may sound good, but I couldn't disagree with that statement more. Why? Simply because problems don't go away on their own. They stick around, feed, burp, grow and reproduce.
To solve a problem you've got to run into it head on. The element of surprise is one of your greatest advantages. Be fearless when you arrive and keep your gaze fixed on the problem. If there's one thing that I know about problems, whether it's a broken process or a messed up person, focusing on it does more good than ignoring it.
If we have a chance to meet, I'll show you my scars. I had to learn this one the hard way.
The problems we tend to avoid are the ones that have the strongest emotions attached to them. People react strongly whenever they are called out for misbehaving. You'll also get "blessed out" by people who don't want to let go of a particular ministry, especially if it enables them to feel good about themselves, even if no one else is getting blessed in the deal.
I call this "the reality of your calling." Think about Moses, Jeremiah, and yes, even Jesus. I don't know of anyone who gets a pass on this one.
So what can you do? Intensify your focus on the problem. Fearlessly crank up the light. Better yet, get the biggest spotlight you can find. Then get another set of eyeballs from the outside to look at it too. The main thing that separates true leaders from wannabes is a bedrock conviction that I call "fearless focus." And one more thing, all great leaders recruit people to help them find solutions to their problems. You don't have to face the battle alone.
If your mind is already starting to focus on something that needs to change or just go away, that's pretty awesome. The only mistake you can make at this point is to let the problem fester until the pain it creates forces you to take action. It's like a decaying tooth. It's only going to get worse. So act now. Filling a cavity is less painful than a root canal.
Send me an email. I'll let you know if I can help you.
4. Unflinching Honesty
You deserve the unfiltered truth about your current situation. Whether it's an opportunity or a crisis, as a leader you need and deserve the facts. Given the nature of church work, this kind of information is not so easy to come by. There are two main reasons why this is true.
First, most people are reluctant, even somewhat fearful of saying what's on their mind to a leader. But that doesn't mean they're not talking about it. There just not sharing it with you. Other people will hear all about it first. This never feels fair to you personally, especially when it circulates throughout the fellowship before you catch wind of it. This may be one of the reasons that Chuck Swindoll wrote a book back in the 90's called, "The Lonely Whine of the Top Dog." Leadership can be lonely because everyone acts differently when they are around you. As they say, "It is what it is."
Secondly, the average church member places the pastor and staff on pedestal—a higher spiritual plane than they will ever achieve. From a theological perspective, we know this is wrong. But it's reality. You live in a spiritual bubble that they've created for you. The vast majority are afraid to be disagreeable in your presence. This is why there is so much passive aggressive behavior in the average church.
I know what I've just written sounds negative. I'm just being honest with you. The reality is that you need to get the most accurate information available so that you can deal with it from God's perspective. A good consultant is skilled at mining information by asking the important questions.
But for heaven's sake, and for the future of your ministry, don't bring someone in who isn't your personal advocate. If I can't be that for you, I'll fire myself. You won't have too. Don't let a committee pick a consultant. Can I say that again? Don't let a committee lead the charge of bringing someone in that you know little about. You can delegate a lot of things as a leader, but if you delegate this, you are playing Russian roulette. I'm speaking from personal experience here.
If you bring me in to help solve a problem or run a capital campaign, I'll give you this commitment. I have no hidden, self-serving agendas. I'm not so much concerned about making a living as I am living Christ's life with complete integrity.
5. Fiercely Competitive
Everywhere you turn, life is filled with competition. Consider how much we see on a daily basis: Football, basketball, baseball, ESPN, "The Biggest Loser," "The Next Food Network Star," "Survivor," and "The Apprentice." Most people are OK with the realities of competition in the workplace or at school, but not in their church.
The reality is that the Apostle Paul was one of the most competitive people who ever lived. Consider these verses:
Phil. 3:14 (NIV) I press on toward the goal to win the prize for which God has called me heavenward in Christ Jesus.
1 Cor. 9:22a (NIV) To the weak I became weak, to win the weak.
1 Cor. 9:24 (NIV) Do you not know that in a race all the runners run, but only one gets the prize? Run in such a way as to get the prize.
1 Cor. 9:27 (NIV) No, I strike a blow to my body and make it my slave so that after I have preached to others, I myself will not be disqualified for the prize.
Gal. 2:2b (NIV) I wanted to be sure I was not running and had not been running my race in vain.
2 Tim. 4:7 (NIV) I have fought the good fight, I have finished the race, I have kept the faith.
There is no greater competition than of the struggle for the souls of men. We should approach this as a win or lose, winner-take-all scenario. Paul considered himself a "debtor" to those who had never heard the gospel. He was willing to be damned himself, "anathema," if it could lead to the salvation of his Jewish brothers and sisters.
I don't know how you feel about the competitive spirit, but I believe its one of the top values of people who change their world. I want you to win. I want your church to win. I look forward to hearing from you.
Click To Add Comment
Are You Thriving Or Merely Surviving?
The primary goal of Briar Patch Consulting is "Helping Churches Thrive." That may sound complex on the surface, but we understand the challenges involved in this arena. For instance, many churches have either plateaued or are in various stages of decline. The macro trends indicate that the majority of churches are treading water. People are fed up with hypocrisy in the pews, fraud in the pulpit, "religion as politics," and old-school denominations. And who can blame them. You probably feel the same way too.
Even as the world has changed, our message is still the same. And while it's supposed to be "good news," it's not viewed that way anymore by the average unchurched man or woman. So what's the solution? It's may not be as difficult as you imagine. In fact, here's the key: Stop spending all your energy merely trying to survive!
The Spinning Plate Syndrome
You're probably thinking to yourself, "Every day is about figuring out how to keep all the plates spinning." There are meetings galore, finances to monitor, staff to keep focused, disgruntled members to soothe, events to plan, and the list goes on. It's really no fun, and you're probably tired of living your life this way. We can tell you our own tales about going to the church office on Monday morning and praying that Jesus would return within the hour.
Here's the reality. This is a defeatist way to live and serve God. There's nothing more draining than trying to survive. You weren't meant to live this way. The Bible is filled with promises about God prospering you, walking in victory, living a Spirit-filled life and being more than a conqueror.This is why "helping churches thrive is so important to us.
Our hope for you is that you spend some time trying to figure out what you want to do in the ministry, and embrace the courage to launch a new beginning. This is where Briar Patch Consulting enters the picture. We are thinkers and strategists, listeners, fiercely competitive, and a quick to make friends. We see where you are because we've been there before ourselves. And more importantly, we know the way back home.
New Beginnings
For instance, think of when you were first called by God to enter the ministry. The experience was fresh, exciting, and you were filled with a fire in your bones. But over time, these things were beaten out of you. Sadly, now you're merely surviving. We would like to help you stop living this way, and learn how to start over fresh and new. Even more importantly, God desires this for you, too.
Let us help you navigate the path to rekindle your vision. Call or send us an email, and let's begin a conversation. It's no accident that you found our website. You might even call it a tiny miracle. Helping churches thrive is a passion for us.
Click To Add Comment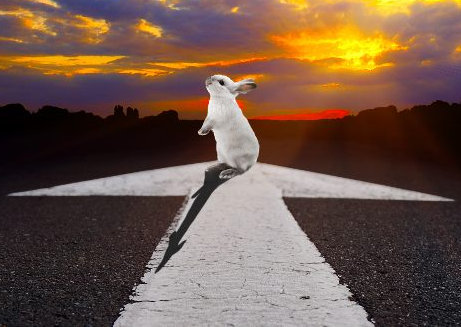 Br'er Rabbit
One of my favorite memories from childhood is the story about Br'er Fox and Br'er Rabbit, told by Uncle Remus. Over the years, this parable has served as a guidepost, both in the business world and in ministry. I think you might like it too.
Br'er Fox wanted to bring an end to Br'er Rabbit, so he set up a trap made of black tar. It was fashioned into the shape of a cute little baby, thus the phrase "tar baby." When Br'er Rabbit came across this odd sight in the middle of the road, he thought the tar baby was being intentionally rude. The tar baby didn't speak to him or even acknowledged his presence. Impulsively, he kicked it with his feet and grabbed it with his hands. Of course, he got stuck. The outcome was just what Br'er Fox had hoped would happen.
When Br'er Rabbit realized that he had been tricked by Br'er Fox, he quickly scrambled for a way to survive. So he pleaded, "You can kill me. You can eat me. But please don't throw me into the briar patch." The fox swallowed the proverbial hook, line and sinker, and tossed the rabbit into the thicket. Only when he saw the rabbit cleaning the tar out of his fur and prancing along on his merry way did he realize that he had been duped.
Br'er Rabbit survived because the Briar Patch was the place where he thrived.
There are several themes in this story that are common to the kind of experiences we've all had in life. Let's be honest. You've faced a few foxes that were out to get you. There have been some traps set along your path, either by your enemies or those who played on their team. I'm sure you've even been deceived a time or two. And yet, you are still here. Now you've found your way into the BriarPatch. Congratulations!
Do you know what helps most when you are deep in the weeds trying to figure out a problem or struggling to come up with a solution? First, consulting with someone who's already been there before. And secondly, someone who loves jumping into the briar patch with another human being. You see this type of reality in the Bible. It's precisely why the relationship between Paul and Timothy worked so well. I can think of other examples too. David and Jonathan knew what it was like to land in the briar patch.
Bottom line… the name of our business means something to us. This makes it kind of Hebraic in a sense. Briar Patch Consulting is about helping businesses and churches thrive. You've probably already seen this on our homepage. Contact us and you'll see it in action. No kidding!
Click To Add Comment
Case Study
We had an interesting request from a client at Briar Patch consulting. Our client was distraught over the construction plans proposed by his neighbor. The neighbor intended to build a large, two-story extension over his backyard garage. As you can see from the image below, the current garage has a minimal footprint and does little to obstruct his view.
Needless to say, when our client viewed his neighbors architectural drawings, he was compelled to take action. We were hired to create an accurate representation of what the new view would look like using the image above. The goal was to help the neighbor and the homeowner's association understand the degree of obstruction and the potential loss of property value. There were several things we needed to accomplish in order to meet these goals.
Measurements and Reference Points
Using a copy of the architectural drawings, we were able gather the precise dimensions of the new structure. We also needed to get a reference point on the photo so the proper scale could be calculated. Luckily, we had access to a mathematician who helped us pinpoint the length and height of the structure, the roof-lines and the slope.
Alpha Channel
After establishing the reference points on the photo, we had to erase the area where the new structure would stand. The challenge was in keeping the large tree in the foreground. Photoshop and Gimp are great tools for graphic design. Personally, we use Gimp, simply because it's free. Anyone who has worked on a project like this knows how time consuming it can be to etch out an alpha channel at the pixel level. Overall, the process took a little over an hour.
Building a New Garage
The garage had to be pieced together from three different photos. We needed a roof that sloped at the same approximate angle, white trim with gutters, and a brick wall of a similar color. Each image had to be sized, shaded and colored to match the proposed building. It's important to note that our client wanted the image to look as realistic as possible.
Layers and Shading
The three images that formed the house were added as three separate layers inside the alpha channel. I had to darken the edges and add a slight blur effect to make the new building appear less stark inside the photo. Finally, I copied the tree inside the alpha channel and moved it to a new layer. Then I created a shadow for the tree. Here's the final image: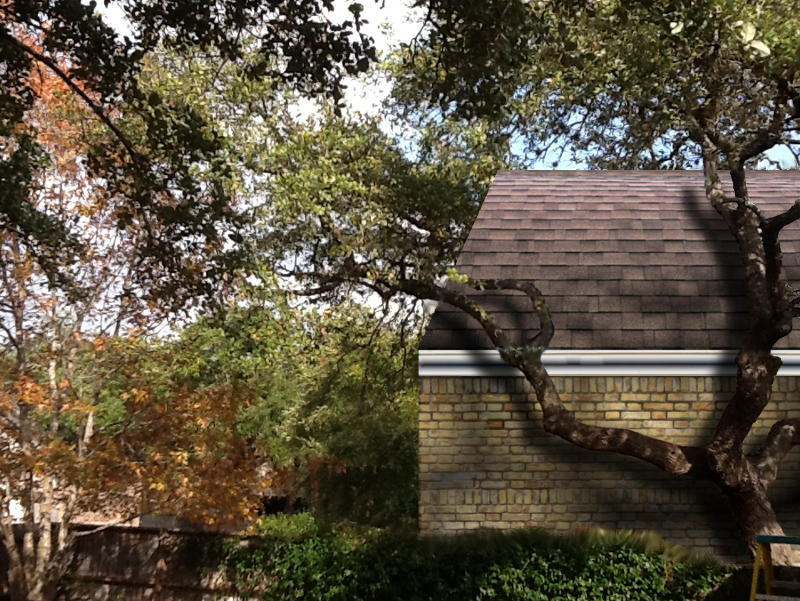 San Antonio Graphic Design
Here are the two images side-by-side:

When our client saw the photo, he said, "That's exactly what I was looking for. At Briar Patch Consulting, we pride ourselves in helping people on projects like these. If you need help from a San Antonio graphic design artist, give us a call @ (210) 390-4500. We also love designing new websites and running digital marketing campaigns. Finally, this project was just fun.
Click To Add Comment