The Key To Conducting Church Surveys
Building unity and synergy around your vision is one of the most difficult challenges of leadership. Churches that thrive in this area don't get there by accident. Someone in the church has made it his or her responsibility to go about the task of building a consensus within the body.
If you were to watch this person maneuver throughout the congregation, you would discover that they do two things well. First, they are skilled listeners. Secondly, they ask all the right questions. Gossips also do the same thing, ironically, but they destroy unity rather than build consensus. In fact, whether we like it or not, informal church surveys are happening all the time.
How Vision Gains Traction
Let's say you have a fresh vision from God and a new direction for your ministry. Seriously, every pastor I know has a desire to hear God's voice and see His glory shine upon their church. But reality can sometimes be harsh. Receiving a vision is no guarantee that anything will ever come of it. It must be cast well, owned by those around you, and implemented with excellence. Here's a secret I want to share with you. Before they will ever see your vision, they need to be convinced that you have heard from God. And don't minimize this next point. They also need to be convinced that you have heard from THEM too.
Launching a listening tour within your congregation is one of the most strategic things that you can do as a leader. As a pastor, I've taken many church surveys in this fashion. There's just one drawback when you're the guy at the top. They're not always willing to tell you what you need to know. Whether or not you are getting accurate information really depends on the church culture and its unique history.
It would be a stroke of brilliance for you to supplement your own listening tour with an outsider's perspective. The best church surveys are those that seamlessly fit your culture. In two days I can meet with dozens of people in your church on an individual basis. The purpose would be to understand their true convictions and analyze their critical thought patterns. It all comes down to asking the right questions and letting people talk until the tank runs dry.
A Lesson From Jesus
We often think of Jesus as the One who spoke with authority. But have you ever noticed how many times he spoke only after listening to what the people around Him were saying? For instance, everyone loves the parables of the lost sheep, the lost coin and the lost son in Luke chapter 15. But consider that Jesus told these stories after overhearing the negative comments about the company He kept.
This might be an interesting Bible study for you. The next time you read through the New Testament, underline all the questions that Jesus asked. Recently, I did this for myself while reading the Gospel of Matthew. Here are some to whet your appetite:
Matt 16:13, "Who do people say the Son of Man is?" Matt. 14:31, "Why did you doubt?" Matt. 6:27, "Who of you by worrying can add a single hour to his life?" Matt. 9:4, "Why do you entertain evil thoughts in your hearts?" Matt. 23:33, "How will you escape being condemned to hell?" Matt. 20:22, "Can you drink the cup I am going to drink?" Matt. 20:32 is my all-time favorite, "What do you want me to do for you?" The last one is always painful for me to read, Matt. 27:46, "My God, my God, why have you forsaken me?"
So send me an email and we can start a conversation about conducting a church survey within your congregation. I love to watch a strategic question, well crafted and well placed, dig it's way into the mind of man or woman. It has the potential to reveal the secret thoughts from the hidden place. What we don't know remains unknown because we don't ask enough questions. I know this process may sound a little scary to you, but let me assure you of one thing. I would never throw you under the bus with your congregation. However, I may be able to prevent one from running over you.
Click To Add Comment
Case Study
We had an interesting request from a client at Briar Patch consulting. Our client was distraught over the construction plans proposed by his neighbor. The neighbor intended to build a large, two-story extension over his backyard garage. As you can see from the image below, the current garage has a minimal footprint and does little to obstruct his view.
Needless to say, when our client viewed his neighbors architectural drawings, he was compelled to take action. We were hired to create an accurate representation of what the new view would look like using the image above. The goal was to help the neighbor and the homeowner's association understand the degree of obstruction and the potential loss of property value. There were several things we needed to accomplish in order to meet these goals.
Measurements and Reference Points
Using a copy of the architectural drawings, we were able gather the precise dimensions of the new structure. We also needed to get a reference point on the photo so the proper scale could be calculated. Luckily, we had access to a mathematician who helped us pinpoint the length and height of the structure, the roof-lines and the slope.
Alpha Channel
After establishing the reference points on the photo, we had to erase the area where the new structure would stand. The challenge was in keeping the large tree in the foreground. Photoshop and Gimp are great tools for graphic design. Personally, we use Gimp, simply because it's free. Anyone who has worked on a project like this knows how time consuming it can be to etch out an alpha channel at the pixel level. Overall, the process took a little over an hour.
Building a New Garage
The garage had to be pieced together from three different photos. We needed a roof that sloped at the same approximate angle, white trim with gutters, and a brick wall of a similar color. Each image had to be sized, shaded and colored to match the proposed building. It's important to note that our client wanted the image to look as realistic as possible.
Layers and Shading
The three images that formed the house were added as three separate layers inside the alpha channel. I had to darken the edges and add a slight blur effect to make the new building appear less stark inside the photo. Finally, I copied the tree inside the alpha channel and moved it to a new layer. Then I created a shadow for the tree. Here's the final image: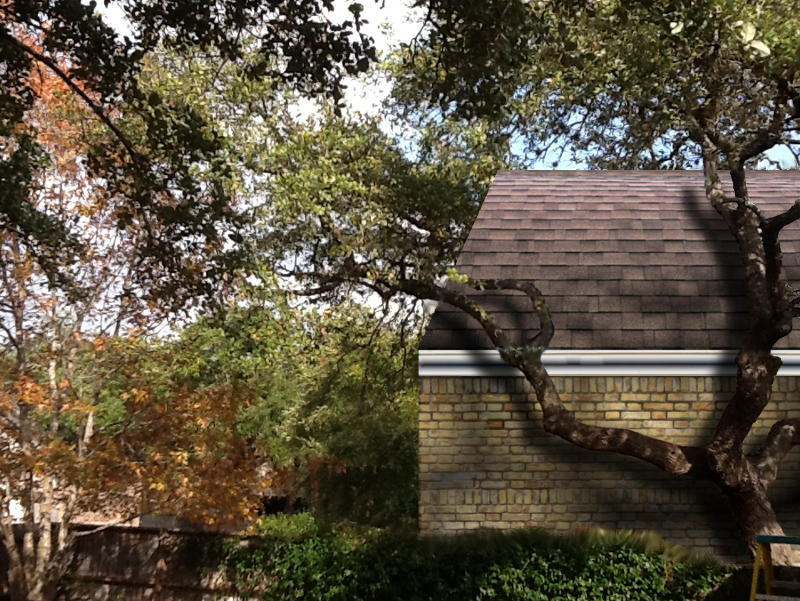 San Antonio Graphic Design
Here are the two images side-by-side:

When our client saw the photo, he said, "That's exactly what I was looking for. At Briar Patch Consulting, we pride ourselves in helping people on projects like these. If you need help from a San Antonio graphic design artist, give us a call @ (210) 390-4500. We also love designing new websites and running digital marketing campaigns. Finally, this project was just fun.
Click To Add Comment